7 Dec 2020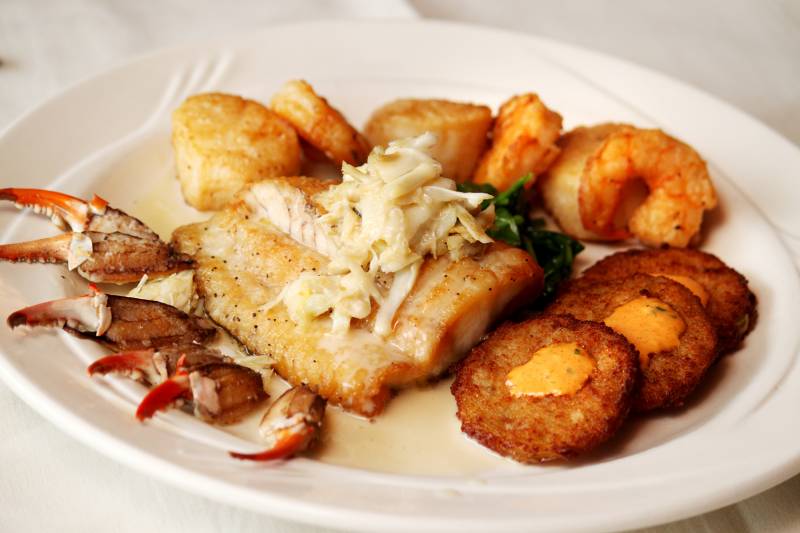 In the Water Tower District of downtown Southport late one afternoon, the "swish, swish" of a broom against concrete can be heard as a young man in a white apron clears the leaves from the sidewalk in front of a single-story, red building flanked by live oak and palm trees. Neat brick pavers greet guests at the doorway and a hand-painted wooden sign announces "fresh seafood" awaits inside. The windows are spotless despite the stain of yellow pollen that seems to be everywhere this time of year and the historic building has a shine to it – the shine of a well loved and well cared for establishment.
Three generations of the Phipps family have made Mr. P's Bistro a fixture of the Southport community. It's one of those rare places where even the tiniest of details are taken into account before diners start to arrive for the night.
Members of the kitchen staff report around noon to begin prep work for the night's dinner service. Executive Chef Stephen Phipps checks out a cooler in the walk-in refrigerator that houses the fresh catch of the day from a local fishmonger along with a seasonal delicacy, shad roe. Miguel Ringel peels shrimp and starts to shuck oysters that will be used for appetizers like Oysters Bienville and Oysters Rockefeller. In the heart of the kitchen Mrs. Dow chops cucumbers and red onions at the salad station.
As dinner service nears, Addison Phipps arrives and begins straightening place settings and chairs in the dining room. Other members of the wait staff trickle in before they gather together around General Manager Chris Smith to go over the evening's specials.
The staff is both purposeful and relaxed in their preparations. It is the kind of atmosphere born of familiarity and trust – of a team that knows how to work well together and thrives when the doors are opened and the orders start pouring in.
A Solid Foundation
It's not by accident that Mr. P's Bistro has been in business for over 25 years. Since it first opened in September of 1995 it has been guided by principles laid out by the late Norman Phipps: a solid work ethic, fair dealings with people, production of a good product and honesty.
"My dad was a famous restaurant man in this area," says Stephen. Norman Phipps brought his family to  Southport in the late 1970s to take over a restaurant called Sandfiddler, which served Calabash style seafood and steaks. "Back then it was just about the only restaurant around," says Stephen.
Over the years Norman also owned The Windjammer on Oak Island and Harborside in Southport. "I tell people I was born in a bus pan," jokes Stephen.
Despite growing up in the restaurant business, it wasn't until he was 18, a time when Stephen remembers skateboarding down the sidewalk in front of the building that now houses Mr. P's Bistro, that he knew he would continue in the family business.
It was while working with his dad at The Windjammer when Norman asked Stephen, "son, what do you want to do?" Stephen answered "dad, I want to go to chef school."
After high school, Stephen left Southport to attend Johnson & Wales University in Charleston, South Carolina. As a member of the inaugural class he was surrounded by world-class chefs who gave him a formal foundation in everything from German and French cuisine to African and Japanese cooking techniques. The training at Johnson & Wales was almost military in nature and taught him discipline.
It was "one of the best experiences I ever had," says Stephen. "It really opened my eyes being a kid from Long Beach."
After graduating in 1986, Stephen took time to travel as he worked as an executive chef for various hotels and restaurants before moving back to the area in 1993 to work alongside his dad, mom and siblings at Harborside and start a family of his own.
"The whole family was involved at one point," says Stephen. "Mom worked up front, Dad was in the bar walking around and all his kids where in the kitchen. That's exactly how it went."
It was also about this time that Chris Smith came into the picture, working as a waiter at Harborside. As a "greenhorn waiter" he met his future wife Cory Phipps, Norman's daughter. The two married in 1999.
Though Smith would go on to earn his restaurant management degree, he reflects "it didn't hurt to have his [Norman's] experience and expertise 
to mentor me through those formative years. He showed me other ways of looking at things then my young mind did."
Smith also learned valuable lessons from the matriarch of the family, Laura Jane Phipps. "She taught me a lot about how to handle people at the front of the door," he says.
The Front of the House
After diners pass through the threshold of the restaurant, Smith is often the first person they meet. Tonight he is dressed in khakis, a blue button-down shirt and a smart yellow and navy bow tie. On this Friday night, the restaurant is humming with conversation. A couple at the bar leisurely drinks their cocktails as a man passing outside on a bicycle slows to peek in the windows. Big laughs emanate from a large table where diners from three generations enjoy a leisurely meal. Smith stops by a table to greet Alice Bookless and Laura Henderson, two of the restaurants regulars.
"It's exciting every single day to greet people and feed them and catch up with them," says Smith.
The restaurant's customers are a mix of first-time diners, local regulars and vacationers who visit the restaurant every year.
"When the local residents keep coming, that's a good plug for the restaurant," says Bookless.
Those that have been coming year after year may notice some changes to the front of the house. The brass fans and fixtures have been swapped for oil brushed bronze and the lighting is now directed downward to showcase the food on the table. The bar area was completely revamped and now has a black granite top with a skirt of reclaimed barn wood. The color of the carpet, walls and tablecloths have changed to more neutral colors so as to highlight the building.
The building, which has been everything from a gas station to a drug store, is close to 100 years old according to Stephen's estimates.
"We didn't want to change the integrity of this history," says Smith. "We just wanted to sharpen it."
The Raw Ingredients
The changes made to the front of the house were all centered around showcasing what comes out of the kitchen – largely a mix of local and 
regional seafood and produce that highlights the bounty of the Cape Fear region.
Depending on the time of year, diners can find seasonal delights such as soft shell crabs (April), shad roe (spring), snapper, trigger and grouper on the menu.
"When we serve softshell crab here, they are alive and kicking when they hit the door," says Stephen.
Stephen stays away from freezing seasonal seafood for future use. "When it's on, it's on," he says. "You go get it…you cook it, you have fun with it. You eat all of it you can stand and move on to something else."
There is at least one type of seafood that Mr. P's diners can find on the menu year-round – oysters. According to Stephen, refrigeration and quality control coupled with the advent of locally managed oyster farms have allowed this salty delicacy to go from a seasonal treat to a menu staple.
"We love oysters here," says Stephen. Though the restaurant sources oysters from all over the east coast, Stephen maintains his favorites are the local varieties.
One of those local varieties is the Fort Fisher oyster. These managed oysters start as a seed just about as big as the end of your pinky according to Stephen. The seeds are inserted in baskets below the tide line and grow for about three years before making it onto a diner's plate.
Harvested in the basin near the Fort Fisher Ferry terminal, Fort Fisher oysters go from local waters to the restaurant in one to two days. "They 
taste like the ocean. They are plump, firm, cared for," says Stephen.
When asked why Stephen chooses to build many of his dishes around the seafood of the Cape Fear region he says, "I grew up with it since I was a child, so it was just in my DNA to do all this stuff. Crabbing, fishing, oystering has always been around and that's what I know. I appreciate every bit of it."
"I enjoy oystering probably the most of everything," he adds. "You go out in a small boat at low tide to the salt marshes. When the oyster beds are exposed you walk out there with a good heavy set of boots on, some good gloves and a basket and a small hammer and you rake through the oysters and you knock 'em. It's called knockin'. You pick 'em up and knock the little ones off to expose the big single that you are looking for."
"There's a little work involved. You know you're flopping around in the mud and the elements, which I love that. ...Then you bring them home and you eat them. That's when it really comes full circle."
Coming Full Circle
It's not just the seafood that has come full circle at Mr. P's Bistro. Stephen, who spent all those years working in restaurants with his dad, now has his oldest son, Addison Phipps, working alongside him.
Addison, who was born in 1994, has also grown up in the restaurant industry. As a 2-year-old he could be found pushing open the old saloon style doors the restaurant use to have, his laughter filling the restaurant.
Addison started working at the restaurant about eight years ago and now serves as a waiter. "We like him in the front of the house because he's purdy," says Stephen. "Not only is he purdy, he is the kind of guy you can talk to that has a real good personality. ...He's real valuable out here."
"Not only is he good at what he is doing, but he is family. He is Mr. P's grandson," adds Stephen.
"I always tell people to make yourself at home in the restaurant," says Addison.
Before Norman Phipps passed, Stephen says he remembers a time with "dad at the bar, me on the stove and Addison bussing tables."
Though Norman is no longer physically at the restaurant, his legacy and the hospitality he taught his family lives on in the next generation.
---