9 Aug 2021
Eight Things to Do at Oak Island this Fall 
Oak Island offers beautiful scenes and the opportunity for plenty of memories to be made. Many people associate this with summertime when the beaches are full of vacationers and residents alike who play in the water and make memories of a lifetime. One of the best times to visit Oak Island, that beach goers may not even consider, is the fall when the sea breeze cools down and a long list of opportunities present themselves. Take a look at some of the many reasons to find seaside serenity at Oak Island this fall.
---
---
Slower Pace, Lower Rates
As the sun sets on summer, vacationers snap back to reality and take the long trek back home both near and far. While the actual beach remains the same size it feels larger with little-to-no crowds plopped down in beach chairs. As an added bonus, demand for vacation rentals dwindles following the unofficial end of summer, Labor Day Weekend, which results in lower rental rates and a chance to experience the same beautiful sights for a lower price. You can search for your Oak Island getaway here. 
Drop in Temperature, Increase in Opportunities
Soaking in the sun during the summer months is often a beach lover's favorite feeling. The rays hit your skin - BOOM - immediate relaxation. The summer months can be hot but sometimes too hot. North Carolina provides an inviting climate that allows you to enjoy the outdoors comfortably for much of the fall months through November. The enjoyable temperatures make perfect conditions for a long stroll on the beach where you will find plenty of seashells for your personal collection. Dive deeper into the endless possibilities and adventures a fall trip to Oak Island offers below. 
---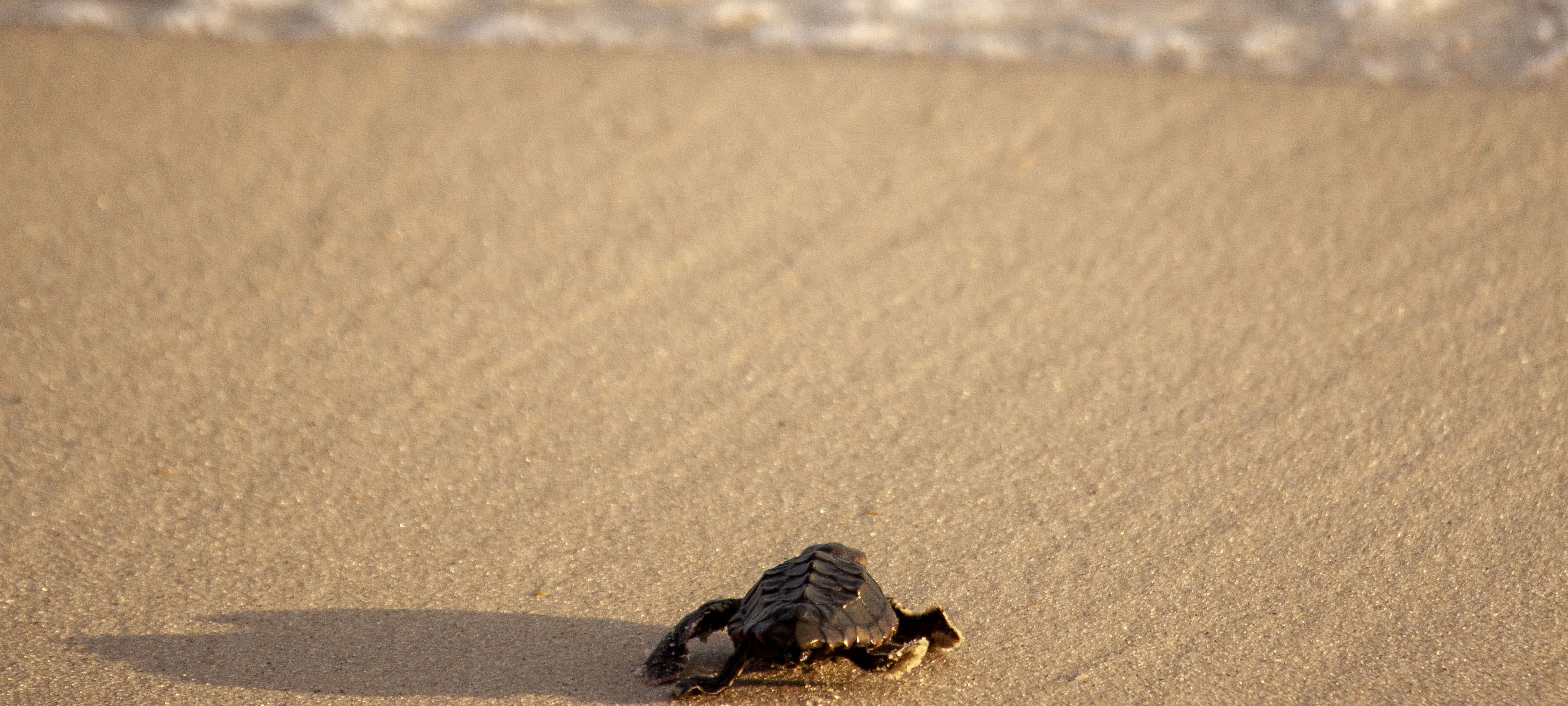 Take in the Beauty of Baby Sea Turtles Emerging from their Nest
Nothing will make you smile from ear to ear more than watching sweet baby sea turtles dig out of the sand and make their way to the water. Oak Island is a favorite nesting spot every year, July through October, for both Loggerhead and Kemp's Ridley, increasing your chance of viewing the miracle of life emerging from the sand. Local organizations such as the Oak Island Sea Turtle Protection Program and Caswell Beach Turtle Watch walk the beach every morning searching for new nests. They continue to monitor and protect the nests until the eggs hatch and baby turtles crawl to the ocean where they can live up to 50 years or more.
---

Sunrise, Sunset, Repeat in the Same Spot
Oak Island, along with the other Brunswick County beaches, is one of the only places in North America where you can sit your beach chair down to watch the sun rise and set over the ocean without having to move due to the island's positioning which runs east to west. If you don't believe it, Weather.com named sunsets on Brunswick County beaches one of the "10 Incredible Phenomena You Have to See in Fall." 
During your visit be sure to wake up early to catch the beautiful sunrise and hang out a while until the sun sinks over the horizon. That sounds, and will look, like a picture perfect day on the coast!
---

Unleash and Unwind
Your four-legged friend is sure to enjoy their visit to the coast as well! A dog's heaven, Oak Island allows dogs on the beach year-round. Seasonally, from October 15 through March 15, dogs are allowed off their leash while on the beach. OIA provides over 150 dog friendly properties so your furry friends don't have to be left behind. 
Dog owners are asked to pick up after their dogs and use proper judgement letting your dog run freely on the beach. Don't forget to share pictures of your cute pups and tag Oak Island Accommodations on Facebook and Instagram for a chance to be featured on our social channels.
---

Collect and Shell-ebrate
With smaller crowds and less crowded beaches there is a great chance you find unique seashells, driftwood and more. Noreasters and other fall storms have a bright side as they wash up a multitude of shells onto the beach making it a perfect time to gather some for your collection at home. Be sure to park at the lighthouse and explore the far east end side of the island that offers great finds. You may even catch a cargo ship passing into the mouth of the Cape Fear River as well!
---

Climb the Lighthouse, Soak in Breathtaking Views
One by one take 131 ship steps to the top of the Oak Island Lighthouse and onto the balcony where you can take in 360 degree views of Oak Island and its surrounding areas. Tours during the off season (September through May) can be requested for any day of the week in the mornings based on volunteer availability. To request a tour to the top of the lighthouse, which spans 153 feet into the air, email [email protected] and include the following information: 
Your name

Number of climbers

Desired date & time (ONLY morning tours)

Phone number where we can reach you in case we have problems with your email address

Phone number where we can reach you the day of the climb.
---

Tee Off
Imagine stepping onto the first tee box as a brisk fall breeze brushes across your face. Oak Island is surrounded by plenty of golf courses that appeal to every player's skill level and liking.
Renowned golf course architect George Cobb, who designed the par three course at Augusta National among many other popular links, placed his mark in Brunswick County by designing the Oak Island Golf Club 18 hole layout as well as the popular course at the Bald Head Island Club. 
Designed by former Masters Champion Fred Couples, Carolina National Golf Club is a 27-hole signature golf course. The course provides coastal views of the Lockwood Folly River while still incorporating towering pines found at many renowned courses through the Carolinas and has been recognized as one of the finest courses along the east coast by Golf Digest.  Carolina National is just a short drive from Oak Island or Southport making it an easy getaway for any tee time.
The Lakes Country Club in Boiling Springs Lakes is marked as Brunswick County's first golf course and features a layout that meanders through the skyscraping pines that North Carolina golfers have grown accustomed to. This par 72 course layout is a short drive from Oak Island and is heralded among many local and national golf writers alike. The 6,701 foot design was sketched by George Riccaboni and opened in 1962 offering a wide variety of natural water hazards and beautified conservation areas.
Located just across the G.V. Barbee bridge the Oak Island Par Three Course is nestled in South Harbor Village making it a scenic 18 hole course that provides unique challenges for all skill levels.
---

U.S. Open King Mackeral Tournament
The granddaddy of all king mackeral tournaments, the U.S. Open is one of the state's oldest and prestigious fishing tournaments. It has been been a staple in Oak Island and Southport for 42 years dishing out a grand prize of $25,000. Dutchman Creek Park will serve host as the tournament headquarters for the second consecutive year after being stationed at Southport Marina before Hurricane Isaias. Make your way to the park October 1-2 to view over 400 boats of all shapes and sizes bring in their prized catch.   
---

Wet a Line
As the air cools down so does the water bringing in many new species of fish that cannot be found during the summer months. This provides the perfect opportunity for fishing enthusiasts to embark on a fishing charter to the Gulf Stream or the infamous Frying Pan Tower. If untying the boat and hitting the sea is not for you, miles of expansive beach as well as two fishing piers - Oak Island Fishing Pier and the Oceancrest Pier - make bringing home dinner an easy, fun catch. 
Depending on the time of year and where you cast your line, popular fishing finds include flounder, speckled trout, red drum, bluefish, cobia, king mackerel, wahoo, grouper, mahi-mahi, tuna and even blue crabs. The fall season opens the adventure of reeling in speckled trout, flounder, red drum and black drum inshore; flounder, red drum, black drum, whiting and pompano along the surf; Spanish mackerel, king mackerel, bluefish, gray trout and large red drum in the nearshore ocean; as well as king mackerel, wahoo, dolphin, blackfin tuna, grouper, snapper, black sea bass, porgy, grunt and the occasional hog snapper and African pompano in the offshore ocean.